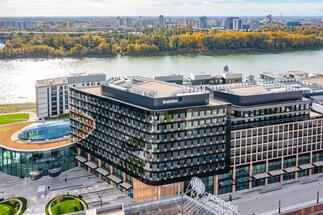 "When moving to new premises, we emphasized three key parameters. First of all, we wanted our office to be located in a location that is easily accessible and where many of our clients and business partners are located. Secondly, it was important for us that our new office was modern and sustainable, as sustainability is one of our priorities, and we focused on "smart" solutions and optimization in order to use individual spaces fully and efficiently. And thirdly, we took care to provide people with a healthy, pleasant and flexible environment that will enable our employees to work efficiently, but also create space for collaboration, informal meetings and opportunities to spend time together pleasantly and meaningfully even after work. said Ivana Lorencovičová, Managing Partner, Deloitte Czech & Slovak Republic.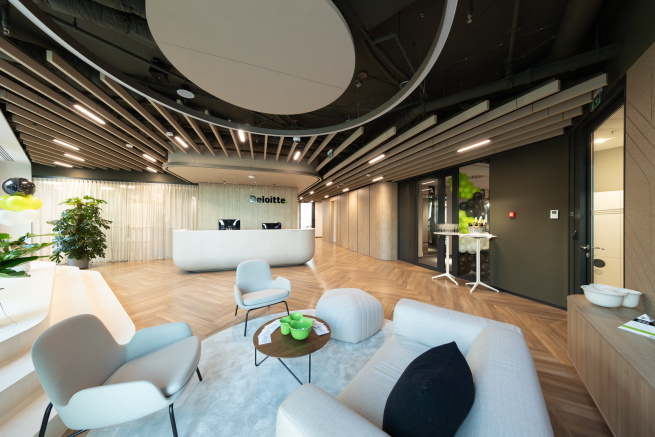 Photo: Deloitte
Deloitte is located on the 7th floor of the Pribinova 34 administrative building in the Eurovea complex. There is an underground garage with parking spaces, including charging stations for electric cars, and places to store bicycles are located directly in the building with wheelchair access. The modern office offers representative spaces adapted to the various needs of employees and clients. The building received an award for the best office project under construction at the CIJ Awards Slovakia 2022.
The emphasis on ecology and the conceptual intention of reusing office furniture were reflected in an original solution. Deloitte, in cooperation with local Slovak architects and suppliers, found a way to use the original office desks and chairs. By refurbishing the tables, a unique piece was created that was adapted to the new space. Thanks to this recycling, almost 80% of the original furniture was given a second chance at life, while even the used furniture looks like new to the ordinary eye, something that Deloitte is quite proud of.
"Smart" solutions have been incorporated into several designs. The electronic card serves as an entrance card, a card for controlling the elevator, an electronic key for employees' lockers, and a card for using printers. All meeting rooms are fully equipped with a reservation system and modern technology for video conference calls. The new Deloitte office space also has a multifunctional room equipped with its own sound system and camera system, which will be used for workshops, trainings, seminars, but also as a conference room for hybrid meetings.
When creating the spatial plan, the efficient use of the space was carefully considered. The "open space" is based on shared workplaces, which have been reduced compared to the former Deloitte office in order to create more space for meetings (+43%) and smaller - so-called quiet rooms (+21%). Larger meeting rooms support teamwork, and smaller rooms are used for individual, focused and undisturbed work. The core of the social space is a large kitchen with a dining room, a social area and two terraces, which are supposed to function as a center for informal gatherings, teambuildings and building a corporate community.