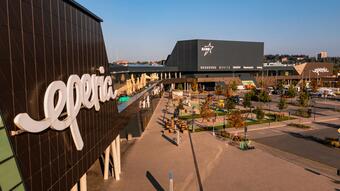 The 11,000 sqm second stage of the development brings the mall's total area up to 21,200 sqm gla. As well as new fashion brands and restaurants, the new section also features a Kino Star multiplex cinema. A total of 25 new shops are to open, including five stores of Polish fashion operator LPP (Reserved, Cropp, House, Mohito and Sinsay), which will together cover 5,400 sqm. A Burger King drive-thru has also been added to the centre.
Eperia was our first retail project of such scale, and its second stage expansion will truly leverage its market potential. I believe we have achieved a good mix of shops, restaurants and services to meet the needs of the over 100,000 residents of Prešov and the local area. With an enlarged Eperia, Prešov has a shopping centre of supra-regional importance.
Pavel Pelikán, JTRE's executive director
Eperia opened in November 2017, with the work on the second stage starting in January 2020. It was the first shopping centre in Slovakia (and the sixth globally) to receive a BREEAM 'Excellent' new construction certificate.