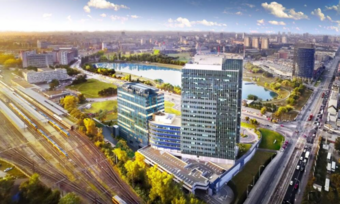 Underground parking
The building is a continuation of the construction of Lakeside park 01 and is from the workshop of architects Ateliér.team ABJ. In the developing locality of the capital with a connection to public and railway transport, more modern offices and public space will be added in front of the building. It will have a landscaping and will connect to the area in front of Lakeside Park 01. The landscaping will also include rain gardens to catch rainwater and space to offer refreshments and small community events. The project will have 314 parking spaces available on four underground floors and outdoors, including charging for electric cars and parking capacities for bicycles.
Completion of works in 2022
Immocap Group and Wood & Company are cooperating in the implementation of the project with a leasable area of ​​14,000 square meters and with an emphasis on the safety of its users in the work premises. The work is expected to be completed in 2022.
One of the first tenants is the company Plzeňský Prazdroj Slovensko. "We are finalizing several other contracts, we are gradually filling the building, which is related to the continuing demand of companies for quality offices in the highest standard and in an interesting location," Wood & Company asset manager Radovan Sukup told TREND.
New technologies
When asked how the construction budget affected the costs of anti-pandemic safety, he said that it is mostly a question of replacing new technologies with those originally planned, for example in controlled ventilation - recuperation. Many of the solutions they have chosen are above standard and not negligible. Practically all the devices are considered when choosing them, especially from a safety point of view, with regard to the potential spread of any infection. The project budget had to be increased, he said.
As an example of measures, R. Sukup mentioned an increase in the number of openable windows, the use of plate recuperation, which prevents the mixing of supply and exhaust air. Others include thorough disinfection of air conditioning, the addition of antimicrobial additives, humidification of the air using hygienic steam with colloidal silver particles and integrated carbon dioxide sensors in the meeting rooms. There will be several contactless solutions in the building.
Source: // Trend Reality