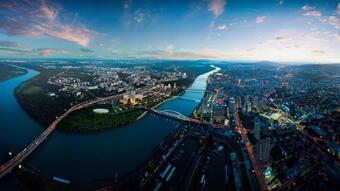 Projekty ako EUROVEA CITY, RIVER PARK či ZUCKERMANDEL premenili a menia zanedbané územia uprostred Bratislavy na živý priestor pre ľudí so všetkým, čo k tomu patrí, v súlade s filozofiou mesta krátkych vzdialeností. Víziou JTRE je pokračovať v pretváraní nevyužívaných lokalít na plnohodnotné mestské štvrte s dôrazom na kvalitné verejné priestory, dostatok zelene a dobrú dostupnosť. Je to odpoveď na najdôležitejšie otázky súčasnosti spojené s moderným urbanizmom, životným prostredím a klimatickou krízou, dostupnosťou bývania a zmenami spôsobu práce.
"Trendom je nepozerať sa iba na jednotlivé budovy, ale komplexne tvoriť kvalitné a udržateľné mestské prostredie. Vzniknúť môže jedine vhodným zmiešaním funkcií a verejných priestorov, aby bolo všetko ľahko dostupné bez vytvárania zbytočnej dopravnej záťaže. Namiesto budovania čisto kancelárskych alebo obchodných štvrtí, do ktorých ľudia dochádzajú, tak dlhodobo tvoríme zmiešané štvrte, kde môžu ľudia bývať, pracovať, stretávať a prechádzať sa, športovať, zabávať sa, nakúpiť či najesť sa. Ako ukazujú projekty našich nábrežných štvrtí, tento model úspešne funguje a vytvára priestor pre život po celý deň."
Pavel Pelikán, výkonný riaditeľ JTRE
Súčasťou každej štvrte v meste krátkych vzdialeností sú aj park, ihriská, športoviská, cyklotrasy, blízkosť verejnej hromadnej dopravy a vzdelávacích, kultúrnych či zdravotníckych zariadení. "Aj my ako súkromný developer cítime mestotvornú zodpovednosť a okrem povinných poplatkov na rozvoj a daní prispievame ďalšími významnými investíciami, predovšetkým do infraštruktúry a zelene," dodáva Pavel Pelikán.
Bratislava má unikátny rozvojový priestor priamo v centre mesta na nábrežiach Dunaja. Na ľavom brehu už niekoľko rokov postupne vyrastá moderné centrum mesta, ktorého stredobodom je námestie Milana Rastislava Štefánika so Slovenským národným divadlom a okolitou zástavbou štvrte EUROVEA CITY. Presne oproti na pravom brehu čaká na rozvoj územie pomenované v strategických dokumentoch rozvoja Hlavného mesta SR Bratislavy ako Celomestské centrum. JTRE tu už dlhší čas v spolupráci s poprednými architektmi a urbanistami plánuje štvrť NOVÉ LIDO, ktorá rozšíri, doplní a vyváži súčasné centrum Bratislavy. Jeho verejné priestory a dopravné riešenia spoja Staré Mesto, Ružinov a Petržalku. Nové časti centra na oboch brehoch prepojí promenádny most a Bratislava sa tak stane skutočným mestom na Dunaji. Zároveň do najväčšej mestskej časti prinesie také potrebné pracovné miesta, za ktorými dnes Petržalčania musia cestovať do iných častí mesta.
Rovnako ako EUROVEA priniesla najobľúbenejšiu časť dunajskej promenády a sprístupnila ľuďom kontakt s riekou, v NOVOM LIDE navrhuje JTRE upraviť a kultivovať rekreačnú zónu s prevažujúcim prírodným charakterom s priamym prístupom k rieke. Obnoviť by sa tak mohla kedysi obľúbená dunajská pláž Lido s výhľadom na bratislavské dominanty a vznikol by záliv pre vodné športy s prístavom pre malé plavidlá.
Správna miera zahustenia vnútornej časti mesta transformáciou brownfieldov a ďalších nevyužívaných území znižuje dopravnú záťaž prostredia a zaberanie krajiny. Súčasťou tohto prístupu je aj výstavba výškových budov v lokalitách, ktoré sú na to predurčené dobrou dopravnou obslužnosťou. Po dobudovaní centra mesta sa prirodzene pozornosť obráti aj na ďalšie rozvojové lokality na okrajoch metropoly. JTRE pri rozvoji nových štvrtí myslí aj na podporu verejnej hromadnej dopravy, najmä koľajovej, vytváranie dobrých podmienok pre cyklistov aj chodcov.
Život v mestách sa však mení čoraz rýchlejšie prirodzeným vývojom spoločnosti, technológií i životného štýlu, ale aj vplyvom nečakaných udalostí a tým sa neustále menia požiadavky ľudí na bývanie, prácu a trávenie voľného času. Každý zodpovedný developer na to musí reagovať. Odpoveďou je multifunkčnosť a flexibilita projektov. Vďaka tomu sa budovy dokážu pružne prispôsobiť rýchlo sa meniacim potrebám a požiadavkám ľudí a firiem a predlžuje sa ich životný cyklus, čo posilňuje udržateľnosť rozvoja mesta. K tomu prispieva aj projektovanie zelených budov, ktoré spĺňajú podmienky ekologickej udržateľnosti a energetickej efektívnosti vyžadované medzinárodnými certifikátmi BREEAM a LEED.
"V JTRE máme už 25 rokov jediný cieľ a tým je spokojný zákazník, ktorý sa môže spoľahnúť, že mu dodáme bývanie, pracovné alebo obchodné priestory včas a v požadovanej kvalite. Na tomto nám záleží aj do budúcnosti."
Pavel Pelikán, výkonný riaditeľ JTRE