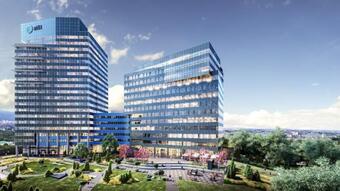 The Lakeside Park 02 project can be proud of the title of the first "anti-COVID" building in Slovakia. Behind the high level of security lies a whole series of technological improvements.
The current criteria for the creation of administrative premises present their creators, employers and, ultimately, users with challenging challenges. The pessimistic scenarios for the market of commercial development projects are successfully refuted by the Lakeside Park 02 project, which is growing near Kuchajda in Bratislava. He built on a unique approach, including above-standard technological solutions. They make it an "anti-COVID" building that has been able to respond very flexibly to changing market needs. Thanks to this, the office project can be proud of its increasing occupancy. Plzeňský Prazdroj is one of the largest tenants. "In addition to the classic benefits, it is important to offer future users something extra - a pleasant, inspiring and community-based corporate environment with enough space for rest and relaxation to become a place of creativity and a focus of new ideas that the home office can hardly provide," says Martin Šramko , CEO of Immocap, the developer of the Lakeside Park 02 project.
They disinfect with silver
After many months, when most large companies used work from home, life is returning to normal. Companies therefore try to prepare the working environment for employees so that it is safe upon return. "The safety and comfort of our tenants are paramount for us, so we really don't underestimate anything. We perceive that companies are currently looking for solutions to secure work for their employees in a hygienically clean environment, "says Martin Marko, Sales Director of Immocap.
One of the main technological elements in Lakeside Park 02 is to ensure the supply of 100% clean air through plate recuperation. In areas where a large number of people stay, a system is in place to monitor the concentration of carbon dioxide in the air with CO2 sensors. In Lakeside Park 02 you will also find advanced humidification systems that increase air quality and enable certified disinfection of air conditioning with silver particles. One of the extremely popular solutions is the non-contact control of elevators.
Ecological building
Lakeside Park 02 is unique in that it is the first administrative building in Slovakia in which the Japanese company Takenaka with more than 400 years of history and experience in construction participates. Takenaka is unique in the European market for construction and engineering services. For 17 generations, the family business has been guided by traditional Japanese values ​​such as discipline, efficiency, honesty, diligence and responsibility. Another priority given to the project concerns the use of environmentally friendly building materials, such as low-carbon aluminum from the German company WICONA. Its preference will save CO2 emissions, which would otherwise absorb 554 trees during their lifetime. Lakeside Park 02 is one of the first office buildings in Slovakia to use this material and which will certainly help it in its aspiration for the green LEED Gold certificate. "Our vision from the beginning was for Lakeside Park 02 to offer a safe and sustainable working environment. We are proud of the progressive solutions in the project. This is the first building in our portfolio that we do not buy as ready-made, but are built under our 'supervision'. Therefore, we are especially careful to bring investors in our real estate funds another quality product, "added Martin Šmigura, Investment Director of WOOD & Company.
What is Lakeside Park 02
The multifunctional complex is located at the intersection of Vajnorská and Tomášikova streets in Bratislava, in the Nové Mesto district. It will bring to the market 14,370 m2 of office space on 13 floors with a view of the panorama of the Little Carpathians. The area of ​​a typical floor reaches more than 1,200 m2. Lakeside Park 02 also envisages the construction of 310 parking spaces on 3 underground floors and new parking capacities in the exterior. Completion of the project is scheduled for the second quarter of 2022.