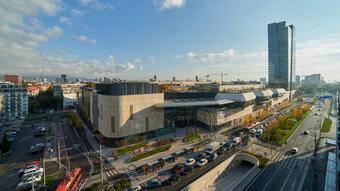 Every day, more than 42,000 people visit the Niva, including newcomers, but stable fans also come here. The green roof with a more than 500-meter-long running circuit, a number of nooks for more private sitting, as well as workouts, training grounds and children's playgrounds were popular for the first time, perhaps all visitors.
"Traffic figures from day one exceed our expectations, even those from before the pandemic, which of course we are happy about. At the same time, it is a commitment for us to continue to bring breakthrough solutions for a better life in the city, whether in the form of multifunctional projects, public spaces, but also services that take life in offices to a whole new level, "said René Popik, CEO of HB Reavis Slovakia.
From successful Auparks to breakthrough floodplains
HB Reavis, the leader in the commercial real estate market, after a series of Auparks and also city-building projects such as Twin City brought to the market a new concept - multifunctional complex Nivy centrum, where there is an airport bus station, many local and foreign shops and a year-round market. , which has a public green roof over its head with the features of a city park.
The Ahoj Nivy! Application, which is one of the most downloaded in Slovakia and also competes with banking or retail applications, which are among the long-term market leaders, is also successful. Nivy is also gradually building its strong position on the market, which is confirmed by their record attendance.
Nivy - the heart of the modern zone of Nová Niva
The Nivy center perfectly complements the Nové Nivy zone with the hitherto missing shops and services or a high-quality public space in the form of a green roof. The new floodplains are becoming an even more multifunctional zone, which represents a new modern center for Bratislava. At the same time, the entire zone recently received a prestigious certificate, which confirms its urban qualities, such as the support of sustainable solutions or the construction of infrastructure. The investor invested 40 million euros in public spaces from its own resources. He used this investment for new sidewalks, greenery and the complete reconstruction of the Mlynské nivy boulevard, including new cycle paths.