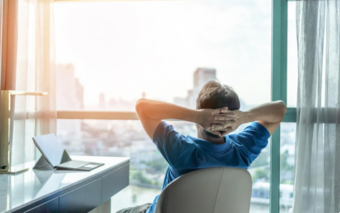 It turned out that the companies failed to get their employees back to the offices as quickly as they thought. The same survey conducted by CBRE last year showed that companies were hoping for a full return to the offices in the second half of last year. However, due to the arrival of Omicron, they had to postpone plans.
However, this year's survey results show that they did not give up. As many as 68 percent of companies planned an active return of employees to offices in the first half of the year. It is also interesting to note that even though companies have set time schedules for the return of employees to offices, they still give them a choice. Only six percent of companies require employees to return to the office full time. Up to 70 percent, on the other hand, give them a choice and their return is voluntary, or they have the option of flexible work.
Only six percent of companies require a vaccination certificate
Although the timing of the return of employees to corporate offices varies, they agree that it should be carefully planned and coordinated. They are aware that due to their coronary crisis experience, their employees have begun to rethink their work priorities.
According to companies, the fundamental prerequisites for the successful implementation of new working principles in practice are just clear and consistent management of the company (63%), but also its clear communication and strategy (55%). The results also showed that companies are aware of the importance of technology in this case. A total of 48 percent said that effective harmonization and technical support of work from home and office is also essential (48%).
At the same time, only six percent of companies require their employees to prove their full vaccination before returning, while 43 percent do not address this aspect. One third of companies also offer on-site testing, and a quarter say their employees have the option of vaccinations on their premises.
As many as 92 percent of companies plan changes in attendance
Due to the onset of the coronary crisis, companies had to change their strategies in many ways. However, according to CBRE, the pandemic also brought positives. "As many as 92 percent of companies have confirmed that they are planning changes in their" workplace "strategies. At the same time, 63 percent also stressed that they will increasingly accept flexible work in the future. The forced change that we coped with during the pandemic has thus become a new and positive trend, "says Tomáš Pecek, Director of the Architecture and Project Management Department, CBRE Slovakia.
Other findings are directly related to this. A total of 45 percent of companies said they would place more emphasis on strategy in the workplace, and 41 percent said they would pay more attention to the health and well-being of employees. The same percentage also state that they plan to renovate offices and 26 percent no longer want to be bound by long-term leases. "In other words, agility and the possibility of rapid changes in the work environment are becoming an increasingly valuable aspect for companies," adds T. Pecek.
Company plans
The CBRE survey also looked at the priorities of companies in their next strategic decisions. According to the results, they will appeal mainly to preventive and expansion plans. Almost half will take a closer look at their rents, redundant business premises or short-term renovation costs. At the same time, 27 percent of companies said they were considering moving to locations in other cities, or to offices at lower costs.
Flexible spaces
The number of companies with flexible offices is visibly rising. According to CBRE, these changes are based on several motives, such as the possibility of entering new markets, uncertain demand or reduced spending. These aspects, including the benefits of agility, are being met by flexible offices.
Hybrid work is not a short-term affair
The results speak for themselves. As many as 72 percent of companies plan to switch to the hybrid workplace model (55% considered it last year). At the same time, 64 percent confirm that hybrid work has gained momentum during the pandemic. The question remains whether companies are addressing this trend formally as well. It turned out that 56 percent of companies have already prepared or are already working on formal rules.
The remaining 44 percent rely on employee decisions or manager communication. Either way, the largest percentage of companies (43%) prefer a journey in which employees will be required to come to the office at a specific number of days a week.
But how to strike a balance between company rules and employees' personal preferences? The answer is not yet entirely clear, as the effective setup of hybrid work is still in its infancy and in the testing phase in many companies. It seems that most companies will try to set the optimal mix of work from home vs. from the office.
"These findings suggest that companies will use their offices less intensively in the future. However, it is clearly confirmed that offices will continue to play a very important role and the rule may not be that they will only shrink, "explains T. Pecek.
Office properties
It turns out that companies are aware of the importance of the need for changes in their "workplace" strategies. In the survey, CBRE asked them what are the most important elements of their current strategy. Among the most common are aspects such as enlarging or improving spaces for collaboration, but also changing the design. There has also been an increase in areas such as improving office equipment or changing the layout of the workplace to offer more open space.
Of course, there are also changes in the distribution or form of jobs for employees. According to CBRE, greater diversity or choice of location will be the mainstay. Most companies in the survey agreed that they plan to provide their employees with more opportunities and space. In addition, nearly 80 percent of companies said they would reduce staffing.