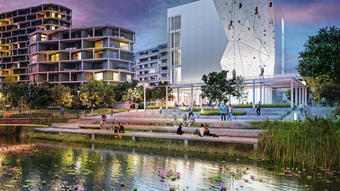 Has it ever happened to you that you got lost in the blocks of Petržalka and did not know how to get out of them? This is because it lacks a central point, a center without which no city can do without. Every quality city is centered around the square or neighborhood where it "lives". You will find there everything an ordinary person expects for work, leisure, entertainment, education, cultural or sports activities. However, Petržalka lacks this space. How is it possible?
Big unfulfilled plans
The current form of Petržalka has its roots in the 1960s, when a major global competition was announced. One of the winners was the urban team Tibor Alexy, Ján Kavan and Filip Trnkus. On the right bank of the Danube, they designed a modern district, which was to include a large center with educational, sports and cultural facilities.
However, in the end, Petržalka was created according to a different concept, and only flats were built from it, not the others. It grew up as a residential area without any center. It was only left on paper.
Change is within reach
But after decades of minimal progress, it is dawning on better times. Unused spaces in the locality of the project being prepared have the hope of fulfilling their potential and becoming a new center.
The comprehensive plan of Petržalka's new heart returns to the original ideas and carries them back to the 21st century. He sensitively uses the advantages of Petržalka - her proximity to the Croatian arm and the amount of greenery - and builds on them, as Andrej Alexy, the son of Tibor Alexy and co-author of the new concept of the Petržalka center, explains.
An attractive project is a new center connected with nature, in which the inhabitants of Petržalka will find new squares, a pedestrian promenade or a new city park. This will create a place where you not only live well, but also relax, work, shop, educate or play sports thanks to the rich civic amenities.
Petržalka's new vision promises a center that will increase the quality of life not only for the inhabitants of the city district, but also for the entire city. It brings to the right bank of the Danube the center that every European metropolis deserves.