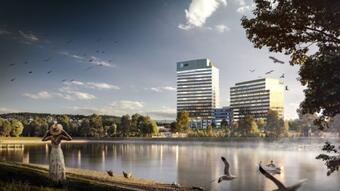 Sustainable offices with LEED Gold certificate
Lakeside Park 02 is one of the first office buildings in Slovakia to use low-carbon aluminum. This is in line with the overall concept of the project, which aspires to a green LEED Gold certificate.
"Our vision from the beginning was for Lakeside Park 02 to offer a safe and sustainable work environment. We are proud of the progressive solutions in the project, which also include Wicona products. This is the first building in our portfolio that we do not buy as ready-made, but are built under our 'supervision'. We therefore take particular care to bring investors in our real estate funds another quality product, "added Radovan Sukup, asset manager of WOOD & Company.
Wicona is another global supplier for Lakeside Park 02. Immocap and WOOD & Company are also cooperating on the project with the world-famous Japanese company Takenaka, which oversees the implementation and technical quality of the project.
Construction of the Lakeside Park 02 office building began in late February 2020 and is nearing completion and full construction. The completion of the project is planned for the second quarter of 2022. It will bring to the market 14,370 m2 of office space on 13 floors with a view of the panorama of the Little Carpathians and Lake Kuchajda.
The area of ​​a typical floor reaches more than 1,200 m2. The comfort of users is taken into account not only in the interior, but also in the exterior. It will increase thanks to public spaces in the form of a green park and a large cycling background. Lakeside Park 02 also envisages the construction of 310 parking spaces on 3 underground floors and new parking capacities in the exterior.