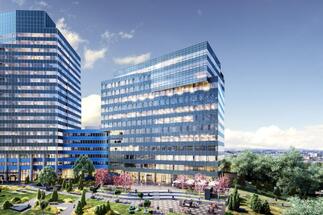 New tenants in the 12-storey building include Innovatrics and Discount of the Day as well as RemingConsult, Etops, DaneTax, Malina, UP Slovakia and Adifex. The occupancy of the project by the contracted tenants is higher than 60% before completion.
For example, the Slovak technology company Innovatrics, which is a world leader in its field, has rented two floors. Another company, Zľava Dňa, was originally based in the old Istropolis Trade Union House and has a long-standing partnership with the developer.
Ecological solutions in the building
The new building, similar to Lakdeside Park 01, is located in the immediate vicinity of several stops of Bratislava's public transport, the Bratislava-Nové Mesto railway station and has parking spaces in the underground garage in Lakeside Park 02.
Martin Marko, Commercial Director of Immocap, said that the offices at Lakeside Park 02 are flexible and that it is possible to adapt the premises to reflect the changing world of work, facilitate team collaboration and strengthen the corporate culture.
Green is not just the surroundings, but the Lakeside Park 02 building itself contains ecological solutions, thanks to which it will represent a smaller burden on the surroundings, as evidenced by the sustainability certificate at the LEED GOLD level. Martin Šmigura, Investment Director of WOOD & Company, added that they used recycled aluminum and saved 554 tons of CO2, which corresponds to the planting of 500 trees.