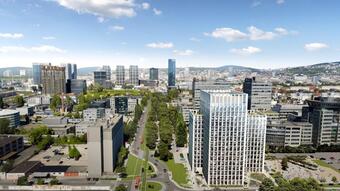 The concept of the administrative project The Mill with a leasable commercial area of ​​25,000 m2 is based on the attractive location of Mlynské Nív, which is becoming a new business boulevard. Ideovo is a project referring to the old industrial zone, where a ropeworks and a steam mill stood and operated near today's construction site. Green areas, planting of mature trees and construction of new sidewalks are planned in the vicinity of the building.
"The entire Immocap team has been happy to accept the decision of the Bratislava - Ružinov District Office, and I can confirm that we are starting construction. Its completion is planned for the first quarter of 2023, and in addition to the attributes of green and anti-covid, the added value of this administrative project will be a comprehensive cycling background on the ground floor and a nursery for 100 children. The newly established square in front of the main entrance to The Mill will provide a comfortable, architecturally integrated environment for employees to relax and a quality public space in this area, "said Jakub Gossányi, Director of Development at Immocap.
As Jakub Gossányi added, it is important to listen to your potential partners for the success of any project. Already in the preparatory phase, The Mill chose a renowned foreign company as its future headquarters, where, in addition to the developing location and excellent accessibility, efficiency and flexibility in solving office space certainly decided.
The architectural design of the building came from an international competition, the winner of which was the D K L N studio. He is cooperating with OBERMEYER HELIKA on the project.
On the floor plan of the letter T, two masses will be connected, the lower part will grow to a height of 12 above-ground floors, the higher one will offer 17 above-ground floors. The underground car park area on 4 floors will have 405 parking spaces for employees and visitors.