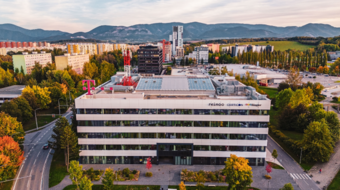 The real estate fund ERSTE Realitná Renta acquired the Poštová building in Žilina, which is part of the NORDCITY administrative zone. The previous owner was the development company Reinoo belonging to Milan Dubec. The price of the transaction was not disclosed.
"As promised, we continue to grow our fund. By purchasing a building in the center, which Žilina undoubtedly is, we want to send a signal about the importance of investments outside of Bratislava," explains Pavol Vejmelka, director of Erste Asset Management in Slovakia.
The Poštová building was the first to be built within the IT and technology zone of NORDCITY Žilina. The center also includes an administrative building and a common Parking lot with a capacity of six hundred parking spaces.
The previous owner of the building was the development company Reinoo belonging to businessman Milan Dubec. Last year, he won the Forbes Person of the Year 2022 award.
The Post building underwent extensive renovation in 2019 and has a leasable area of almost 13,000 square meters. The developer's intention is for the entire zone to create a space with an area of over 33,000 square meters.
Ecological offices
"Nordcity Poštová is dominant among our projects in Žilina. This location has excellent accessibility to important transport nodes and public infrastructure, while being located in a quiet environment near the largest housing estate in Žilina and the university campus," says Dubec.
The building is characterized by ecological office spaces with energy efficiency at the A1 level. In the vicinity are the latest retention containers and traps for oil substances, which have the ability to capture up to three hundred cubic meters of rainwater, which contributes to sustainability and environmental protection.
It has a LEED GOLD V4 (Leadership in Energy and Environmental Design) certificate, making it the first office building in the Žilina region to meet strict standards for energy and environmental design.
Two billion euros under management
Erste Asset Management GmbH operates in Slovakia after the merger with Asset Management Slovenská sporiteľna, which took place in the summer of this year.
In Slovakia, it manages more than two billion euros in 18 mutual funds. It is thus among the largest management companies in Slovakia.
Asset Management of Slovenská sporiteľna was established as a subsidiary of Slovenská sporiteľna in 2001.