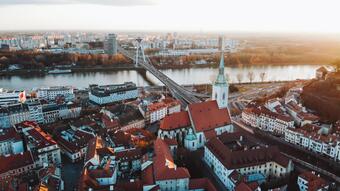 However, they included in the overview only those projects that have not yet started to be implemented.
The first thing they mention is the Nové Lido multifunctional district, which is supposed to expand the center of Bratislava and connect both banks of the river. The developer group JTRE wants up to five thousand new apartments to be built in the new district. However, since the project requires a change in the spatial plan, it is currently questionable when the developer will start implementation.
World-class architecture
The Index also identified the Penta Real Estate project called Southbank Bratislava as fundamental. In the summer, Penta organized an international architectural and urban planning competition, the aim of which was to find a solution for the development of the territory.
The third mentioned is the project of the developer J&T Real Estate, which is a continuation of the multi-functional Klingerka project. It is to be built on the site of the former Gumon factory. More than 600 flats and apartments are to be built within Klingerka II and III.
A multifunctional quarter from a former factory
Index also included Nový Istropolis in the list of projects. As developer Immocap writes, the cultural and congress center should be the heart and dominant.
The project also applied for support for the construction of the National Cultural and Congress Center. However, as the Index makes clear, the government backed away from the subsidy. For this reason, it is not known whether Immocap will realize the presented hall in a larger or only a smaller format.
Among the most ambitious projects in Bratislava, Index included the reconstruction of the Palma industrial complex in Novy Mesto. The developer Corwin already indicated during the acquisition that he was interested in the establishment, in the local conditions, of an exceptional development.
The design partner is the Danish office Gehl Architects, which will help turn the former factory into a multifunctional district.
The epicenter of innovation and creativity
Nové Vajnory and Eset Campus were also on the list of projects that will change the shape of Bratislava, which, according to the Index, can also be compared with world-class projects.
The largest Slovak software company is planning to build a place in the area of the former military hospital, which is to turn the location of Bratislava's Patrónka into an epicenter of innovation and creativity.
The last, but equally attractive, trio consists of the Nova Matadorka, Kapitulské dvor and Nové centr Ružinov projects.