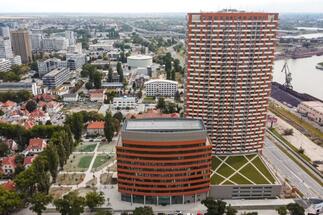 The tallest residential building in Bratislava Klingerka has been approved. According to the developer of the J&T Real Estate (JTRE) project, the process of building a 116-meter building, which was built on the site of a former jute factory, was completed after 31 months by a valid approval decision.
"This is approaching the transfer of apartments to the new owners and the adjacent park with a playground, benches and lots of greenery will come to life," says the developer.
The new residential building has 36 floors, 380 two- to four-room apartments, 376 balconies, five elevators, 678 parking spaces, 425 square meters of retail space and 6,300 square meters of greenery within the park and the green roof of the garage.
"We concreted the roof over the 35th floor in November 2020 and prepared the building for approval by September 2021. It is a very good result for its parameters," says the main construction manager Martin Barila.
The project includes a multifunctional park the size of half a football field. He designed by the experienced team of the architectural studio GFI, which collaborated with the award-winning designers mmcité. The central element is a modern playground, an area with workout machines and a smaller playground for ball games.
"The roof of the garage house is also covered with greenery, which contributes to noise reduction, reduces dust and temperature, retains water and, together with park planting, is a significant contribution to climate sustainability in the center of Bratislava," says the investor.
In addition to the last administrative steps required to hand over the apartments to the new owners, all minor interior and exterior work will also be completed. Developer JTRE is preparing a continuation of the Klingerka project.
"We will start handing over almost 400 flats in a few weeks and we will do everything we can to ensure that the first residents can move in as soon as possible," says Ivan Bratko, JTRE's director of residential real estate sales.
Klingerka residential building:
115 meters - height of the building
36 floors
380 two- to four-room flats
376 balconies
5 lifts
663 steps has a staircase from the garage to the 35th floor
678 parking spaces
425 m2 of retail space
6,300 m2 of greenery (park + green roof of the garage house)
2022 - year of completion