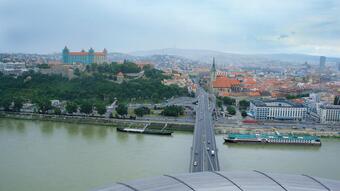 The civic association submitted to the Value for Money Department (ÚHP) from the Ministry of Finance the first draft of the feasibility study of the center in August this year. But only after evaluation by the department can he consider it final and publish it. The department and its methodology were consulted with the department from the beginning.
They postponed the deadline
The key date was September 30, 2021. Until then, the government had to decide on the amount of state aid for the project. Other criteria were to be developed from its height and negotiations.
The cabinet was to decide on participation in the civic association's bodies by the same date after the unit had assessed the study. According to a statement from the Ministry of Finance, the government has not yet decided on participation in the NKKC. They moved this task from 30 September to 31 March 2022. An evaluation of the feasibility study will be prepared by this date.
Despite the change in time, the interest of developers continues. "We were not informed about the postponement of the deadlines for completing the next steps related to the NKKC project to the end of March next year," JTRE responded, adding that they expected to be openly informed about the progress and fulfillment of individual tasks with regard to investments by them and other companies. The offer to build the center is alternatively valid in another format in the Eurovea City project.
Incheba stated that it is continuously developing the details of the project or solution. In addition to the publicly presented proposal, ÚHP submitted a significantly more economical proposal in mid-September this year. He claims that the NKKC could be implemented much faster and for half the amount while maintaining top parameters. A possible change in the date does not affect Incheba's interest in building the NKKC.
The third applicant for the site for the NKKC - Immocap - has the Nový Istropolis project at Trnavský mýto. He has been working on the preparation for four years with the aim of bringing life to the site and preserving the cultural and social function of the area, as he declared at the beginning of the acquisition of the Istropolis House of Trade Unions.
His situation partially changed in November after several months of tough negotiations with the Nové Mesto district. If he does not build a cultural and social hall for at least 1,650 seated visitors in the first phase of the construction of Nový Istropolis, he will pay a fine of five million euros.