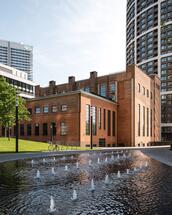 Rental income and other related income, which reached 20.3 million euros, had a positive impact on the company's economic results. The value of the property was 527.8 million euros at the end of last year, the equity was almost 216.9 million euros, which represents 41 percent. The group's net debt in relation to assets reached 44.2 percent. These parameters ensure Alto Investments sufficient capital stability and possibilities for further development.
Alto Investments is a top holding company with the legal form of a simple joint stock company. The parent company deals directly or through its subsidiaries mainly with activities related to the construction, management and rental of real estate, namely office space in administrative buildings, management of retail space and construction of residential apartments and apartments. Jozef Oravkin is the 100% owner of the company's shares.
Alto Investments consists of two subholding companies. Alto Real Estate is a company for investments in the field of development. It deals with projects in the phase of construction or project preparation. For example, the construction of residential apartments and suites in SKY PARK 4th tower. The upcoming SKY PARK Tower will be the fifth residential building of SKY PARK, with the planned start of construction already next year. Other apartments will be built in the Florian project in Bratislava's Old Town on Školská street. In the Mlynské nivy - Chalúpkova zone, in the area between the SKY PARK area and the former temporary bus station, Alto Real Estate is preparing a construction that will be a combination of housing, offices and civic amenities. At the entrance to Bratislava, on the border between Rača and Vajnora, Alto Real Estate is preparing the construction of a complex of urban warehouses and sales and exhibition spaces STORE.TO.
Alto Property is a joint-stock company with variable share capital. It focuses on the operation of type A office premises with a total area of more than 120 thousand square meters. Alto Property mostly owns and operates completed projects such as Digital Park I. and II., SKY PARK Offices, Jurkovičova Tepláreň or CBC 345. It is in these office projects, with the exception of Teplárna, where it still owns one hundred percent, that last year Alto joined forces with the largest manager of mutual funds in Slovakia, Tatra Asset Management. The majority stake in the joint assets was retained by the Alto Group, which is responsible for the management of this joint portfolio. Alto Property also deals with the management and lease of commercial premises located under the three SKY PARK towers and the lease of offices in Jukovičová Teplárna.