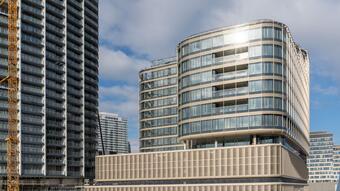 "During the pandemic, tenants' requirements for workspaces changed, especially in terms of flexibility, private and rest areas, air quality, and sanitary facilities. These factors also accelerated the adoption of various innovations and trends in our new projects. Eurovea City's new office space is attracting strong interest thanks to good accessibility by public transport, bicycle, and for pedestrians; everything being in one place; and the opportunity to play sport before or after work. I'm pleased to announce the first clients prior to construction completion. Pribinova 34 - which is directly connected to Eurovea shopping centre - will welcome Deloitte, while Pribinova 40 near Apollo Bridge will be the HQ for another key company that will take over 40% of the building."
Róbert Tenczer, director of the commercial property leasing department
In the first phase, Eurovea has launched 24,500 sqm of offices with flexible spaces cooled by Danube -tenants include BDO, Cisco, Metlife and Pelikán. "The signing of the first two clients at expanding Eurovea City shows that our modern urban neighbourhoods can provide quality lifestyle, rewarding work, and deliver ESG-compliant designer offices. We're in the final stages of signing contracts with other tenants," he continues.
The green BREEAM Excellent-certified Pribinova 34 office building has flexible spaces with a low carbon footprint, and has 17,500 sqm of next-generation offices on nine floors for clients that expect the best. Companies will appreciate excellent accessibility by foot, bicycle, public transport, and car. Pribinova 34 won the prestigious CIJ Awards Slovakia 2022 award in the Best Office Upcoming Development category for the best office project under construction.
Pribinova 40 has a distinctive cosmopolitan character and unique office designs that include coworking, agile, executive, traditional, open space, and boutique. It has 21,000 sqm on 15 floors with attractive views of the Danube and city centre, a 750 sqm community terrace for all tenants, and private terraces from 70 to 500 sqm. Pribinova 40 - with the highest BREEAM Outstanding sustainability certification – has space that meets the expectations of leading Fortune 100 companies. The two buildings are connected by expansive public spaces designed by Barcelona architect Beth Galí - an extended waterfront promenade and the urban Pribinova boulevard.
"Competition has increased on the office space market recently. So that we've signed contracts with two major clients - and with more in the pipeline - demonstrates that we're delivering a superior service in terms of prime buildings in good locations with excellent accessibility, great amenities, and our own management company. Clients are increasingly seeking maximum flexibility, reduced carbon footprints, and more emphasis on locations that support commuting by foot or bicycle, and abundant green space. Although demand for office space has somewhat cooled, Eurovea's first stage already has over 90% occupancy. And given our offices' quality and location, I'm confident that we'll soon be unveiling our next clients at Eurovea City and at other projects."
Peter Píš, JTRE sales director and member of the board