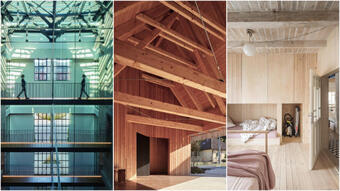 Acute solutions to problems
Climate change and crises force urgent solutions to problems. The motivation of the Chamber of Architects is therefore "change in the sense of overcoming barriers protecting convenient and quick solutions." We wish for the development of settlements where everyone can live well."
According to the director of the SKA office, Oľga Miháliková, the award no longer only communicates individual works and the work of architects. "It also creates a space for discussion about the impact of architecture on our quality of life. That is why, for the third time, the slogan of the communication line of the CE ZA AR award for 2021 is #greenprearchitektúru, which is added to the global calls for mitigating the environmental impact of architecture," says Miháliková.
Big responsibility
During the investment from the Recovery and Stability Plan, we have a great responsibility on our shoulders, which is also a historic opportunity, says SKA chairman Iľja Skoček. Therefore, they are entering the 21st year with the motto #regeneration, which is proving to be a tool for restoring the country through climate-responsible procedures.
Skoček further criticizes that the chamber does not feel supported by the state. "We lack a stable and united partner on the side of the public and state administration, with whom we could prepare long-term projects for the reconstruction of Slovakia. Today, more than in the past, it is true that quality must be sought in comparing other possible solutions. This is the key to making a responsible decision to invest. Therefore, let's look for the quality of construction and renewal through design competitions," added the chairman of the SKA.
The quality of construction is increasing
Dozens of submitted works were evaluated by an international jury composed of: Jakub Cigler (chairman of the jury, Czech Republic), Bohunka Koklesová (VŠVU Rector, Slovak Republic), Vladimír Sitta (landscape architect, Czech Republic), Pavol Šilla (SR), Štěpán Valouch (ČR), Juraj Benetin (SR) and Igor Marko (Great Britain/SR).
24 works were shortlisted, from which six main prizes will be awarded. According to the jury, the relatively high proportion of nominees reflects the increasing quality of construction, as well as the interest in respect for monuments and the relationship with nature and new architecture.
The laureates will be announced during the gala evening, which will take place on October 6, 2022. The host of the 21st annual award ceremony will be jury member and architect Juraj Benetin.