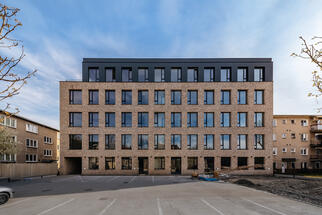 The building offers more than 1900 m2 of leasable office space and a sufficient number of parking spaces. The size of a typical floor is 402 m2. The location of the building emphasizes the positional advantage of the building. It is right in the city center near the bus and train station with good access to the highway bypass.
This allows good connections for more than 500,000 people from around 45 km. Within walking distance of offices are all important institutions within 10 minutes, such as banks, notaries, post office, hotels or shopping centers.
Original brick style
The modern new office building is built in the "English" brick style. The Hollého 6 project has its own parking spaces, a terrace and a green roof. It offers open space-style office space on five floors, which can be flexibly adapted to individual needs. The standard of the building is a security system, a modern elevator, air-conditioned rooms, technical maintenance and cleaning service.
"Every city center has its genius loci. That's why we approached this construction very sensitively, "said Roman Petro, Reinoo's project manager.
"Our building brings the high standard that today's corporate clients demand. We will offer variable spaces with lots of light, opening windows with the possibility of natural ventilation of office spaces, with a clear height of 3 meters and with high-quality sound insulation between offices. "
"I believe that companies, as well as their employees, will appreciate these elements. We have not forgotten about the green solutions that we try to use in each of our projects as much as possible. The roof of the building will be green and infiltration systems will be used to retain rainwater. We will complete the surroundings of the project with newly planted grown trees, "he adds.