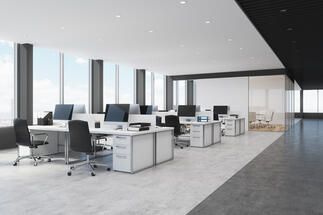 The total supply of office space in Bratislava reached the level of almost 1.92 square meters in the fourth quarter of last year. This follows from the press release of the Bratislava Research Forum (BRF). "During the fourth quarter of 2020, 26,300 square meters of new office space were added to the Bratislava market.
The construction of two office buildings was completed, namely Pradiareň 1900 and Tower 5. In 2020, a total of six buildings with a total area of ​​more than 76,000 square meters were added," says BRF.
Lease transactions are growing
There are six projects under construction with completion by the end of this year 2021. "The total area of ​​these properties reaches almost 80,000 square meters of new office space in the A standard," BRF explains, adding that the total number of properties available for commercial use remains at 83 percent, which is approximately 1.6 million. square meters.
Lease transactions reached a total area of ​​approximately 65,800 square meters in the fourth quarter of 2020, a six percent increase in leased space compared to the same period last year.
"However, it should be noted that the fourth quarter is the strongest every year, with the exception of 2020," the company explained. The largest transaction in the fourth quarter of 2020 was the pre-lease of 12,000 square meters of office space within the consumer goods sector.
"In addition to it, another 13 transactions with an area of ​​1000 square meters and more and 12 transactions ranging from 500 to 1000 square meters were recorded," added BRF.
The highest vacancy rate since 2014
The overall vacancy rate in Bratislava increased from 10.05 percent to 11.15 percent in the previous quarter.
"Overall, the vacancy rate at the end of 2020 was the highest since 2014. However, the reason is not only the current situation associated with the spread of coronavirus but also the completion of several office properties in 2020, which were not completely pre-leased," explains BRF. The amount of rent remained unchanged at 17 euros per square meter per month.
Source:// ASB