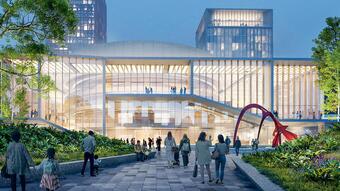 "We are ready to comply with everything we declare in the long term in our plan. The mayor insists on dizzying sanctions against our society. We consider this to be unusual, disproportionate and disregarding reality. However, we are interested in further negotiations, "said Martin Šramko, CEO of Immocap.
According to him, the company has implemented several successful and city-building projects in the past, and at the same time ensures that it approaches the New Istropolis project equally responsibly from the beginning. He noted that she had already agreed to many conditions in negotiations with the city district.
"Beyond any customs and beyond our current responsibilities, we have committed ourselves to many fundamental promises," stressed Šramko. He reminded that they have been working on the project for four years with urban planners, architects and experts in cultural and social halls.
Kusý's requirements
At the end of August, the mayor of Nové Mesto, Rudolf Kusý, repeated the requirements he has for the developer, demanding their written guarantee. He did so in connection with the application for a demolition permit for the current Istropolis.
One of the conditions is the construction of a cultural, social and congress center in the first phase of the project, to which the developer should commit himself even under the threat of sanctions. It also demands the preservation of several significant artifacts or valuable trees and greenery.
The city district together with the capital should also have the opportunity to comment on public space. He does not consider the requirements to be exaggerated or inadequate.